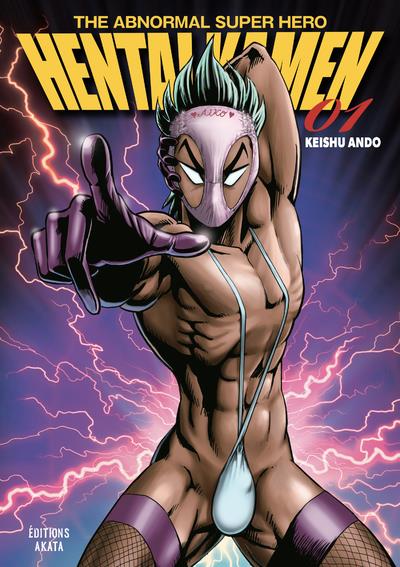 THE ABNORMAL SUPERHERO - TOME 1
5% discount for all instore pickup orders!
(W) ANONYME
Description :

Après avoir traumatisé tout le peuple japonais avec son personnage en slip, HENTAI KAMEN, THE ABNORMAL SUPER HERO débarque enfin en français ! N'attendez pas plus longtemps pour découvrir l'humour pervers et décalé de Keishu Ando.
Kyôsuke est membre du club d'arts martiaux de son lycée. yôsuke Élève particulièrement apprécié, il est animé par un aigu sens de la justice. Mais il a un secret qui ne doit surtout pas s'ébruiter : lorsqu'il enfile un slip sur sa tête, le sang vertueux de son père (un inspecteur de police décédé dans l'exercice de ses fonctions) mêlé à celui de sa mère perverse (adepte de pratiques SM) s'enflamme dans ses veines et il se transforme alors en Hentai Kamen ! Dès lors, en tant que super-héros (étrange) aux pouvoirs surhumains, vêtu de la culotte d'Aiko Himeno, sa camarade de classe préférée, il utilise ses meilleurs flexflex pour protéger la veuve et l'orphelin !

Release date: 23/06/2022
---